REVOLAX
Hyaluronic Acid dermal filler
Firm and lasting Hyaluronic Acid dermal filler with high purity. It works by adding volume in a natural way to the skin tissue, improving wrinkles and folds and restoring the facial appearance smoothly and gradually.
Revolax Product Range
Aplications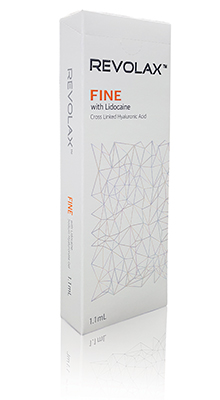 REVOLAX ™ FINE
Superficial to top dermis.
Forehead lines, crow's feet, glabella lines, lip contouring, perioral wrinkles, nasolabial folds, tear troughs, earlobe augmentation, neck wrinkle, lower eyelid contouring.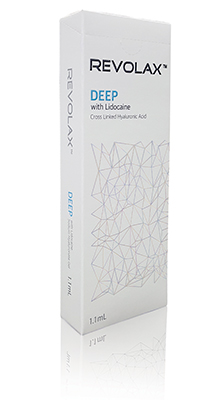 REVOLAX ™ DEEP
Mid to deep dermis / subcutaneous layer.
Lip contouring, glabella lines, nasolabial folds, laughter lines, chin augmentation, forehead wrinkles, nose augmentation, cheek augmentation, jawline augmentation.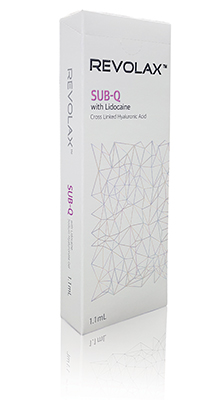 REVOLAX ™ SUB-Q
Deep subcutaneous layer.
Nasolabial folds, laughter lines, jawline, forehead, nose augmentation, cheek and chin augmentation.
Revolax™ Fine

Revolax™ Deep

 Revolax™ SubQ
Composition
HA 24 mg/ml
HA 24 mg/ml
HA 24 mg/ml
Recommended Indications
Superficial lines;
Worry Lines
Crow's Feet
Neck Wrinkles
Lips
Deep Nasolabial Folds
Face Contouring and Augmentation.
Severely Deep Lines
Nose
Cheeks / Chin Contouring and Augmentation.
Injection Depth
Superficial Dermis
Mid/Deep Dermis, Subcutaneous
Deep Subcutaneous
Volume
1.1ml
1.1ml
1.1ml
Complex Viscosity
80
160
280
Needle Size
30G
27G
25G
Duration
8 – 12 Months
12 – 18 Months
12 – 18 Months
Storage
2 – 25 ° C
2 – 25 ° C
2 – 25 ° C
Shelf life
24 Months
24 Months
24 Months
High Purity
REVOLAX ™ is a biodegradable gel that uses High Purity Hyaluronic Acid from bacterial fermentation. It is a natural compound optimized and prepared to adapt perfectly to the human skin tissue.
Monophasic structure
Regular and dense monophasic structure. This feature allows a smooth and constant injection throughout the treatment to achieve a harmonized volume and a natural appearance. The density patterns of REVOLAX ™ make the structure more solid, consistent and durable and the product is completely absorbed by the skin naturally over time.
Optimal Cross-linked HA Technology
Our unique crosslinking technology does not require any addition of free hyaluronic acid to adjust the physical properties of the gel.
Soft injection
By using Ultra, a thin-walled needle, we obtain a smooth, precise and easy-to-control injection throughout the procedure, minimizing the residue or migration of the product.
Visco-elasticity
Visco-elasticity is one of the main advantages of REVOLAX ™ and one of the determinants of longevity. The high molding capacity of the gel creates an immediate and lasting volume according to the treatment area, thus allowing the product to be reabsorbed in a uniform manner and achieving a natural finish.
Long lasting
The strong and dense monophasic structure of the HA polymer facilitates a duration up to 18 months.
Our research and development work is focused on the design of high technology dermal fillers
which is why we offer Revolax as a safe, minimal risk and very competitive product in terms of easy use, quality results and lasting.
Our purpose is the continuous innovation to guarantee the development and progress of Revolax and its range of products
Several clinical trials verify that REVOLAX ™ is an effective and safe medical application filler for the correction of the nasolabial fold, in addition, it has a strict quality control process that completely eliminates all traces of the BDDE crosslinking agent from the finished product, through its rigorous dialysis process.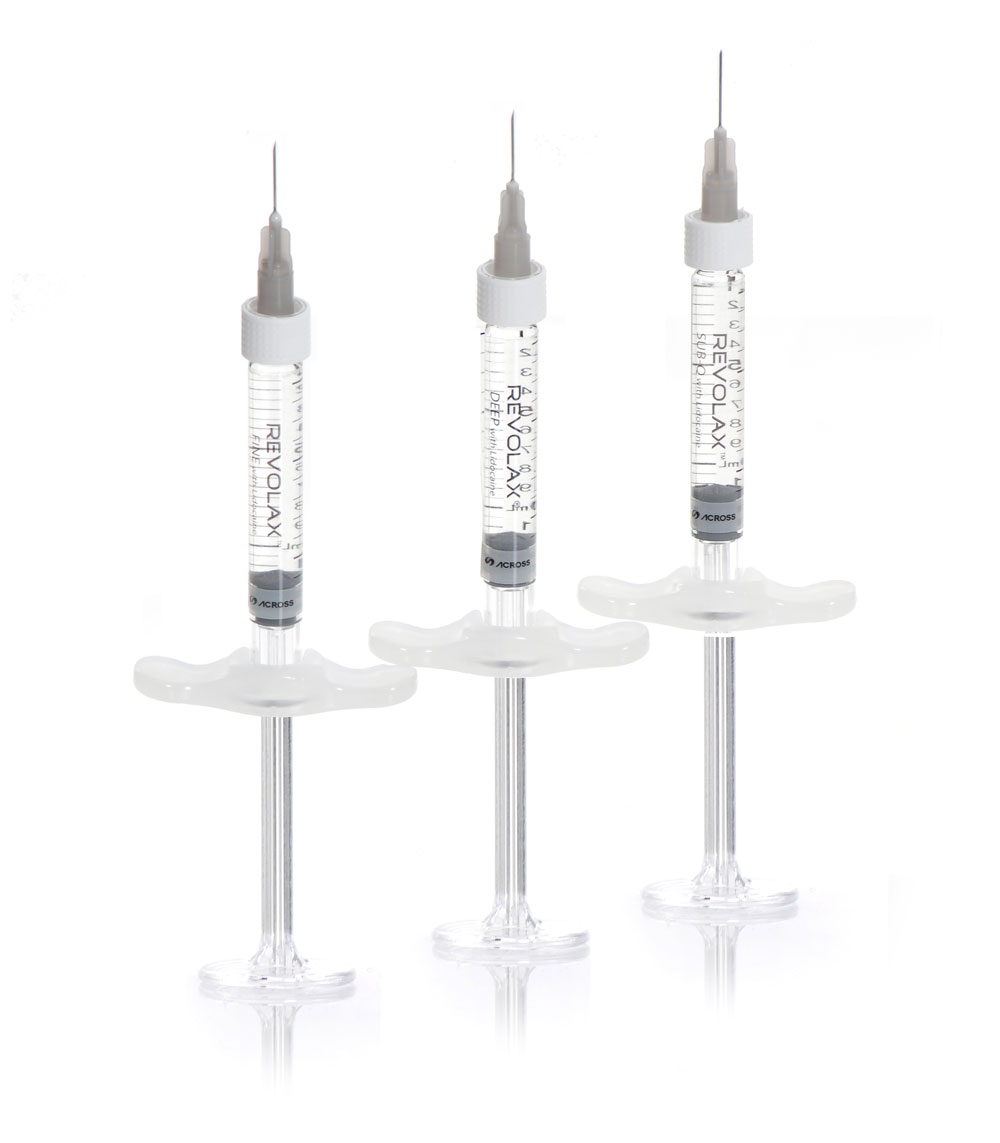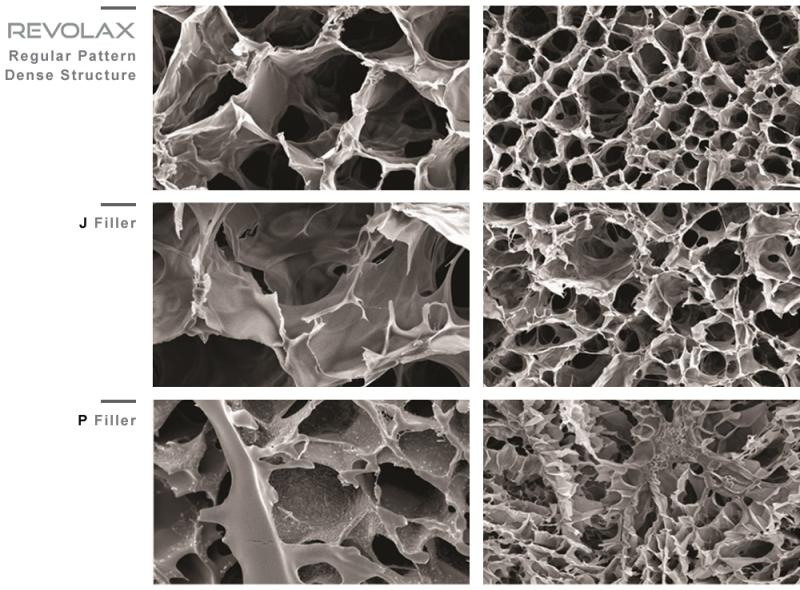 MONOPHASIC AND POLYDENSIFIED STRUCTURE
Revolax has a monophasic structure of
regular and dense framework
which allows a
uniform and consistent
injection throughout the treatment helping, in this way, to harmonize the volume and skin appearance in a natural way.
Unlike other monophasic HA fillers, the dense and regular patterns of Revolax make the structure more solid, more durable and maintain, at the same time, the viscosity and elasticity. The product has been developed to offer a natural looking over time until the point of being completely absorbed into the dermis.
Long lasting
Revolax dermal fillers are highly monophasic and structured hyaluronic acid polymers, which can last up to 18 months, depending on the type of product.
Comparative table of Revolax with other dermal fillers
| | | | | | | |
| --- | --- | --- | --- | --- | --- | --- |
| Product Name | HA content (mg/ml) | Elasticity(G') | Phase angle | Injection force(N) | Rate of Cross-linking(%) | Manufacture method |
| Teosyal  deep lines | 25mg | 138~247 | 9.21~12.87 | 15(irregular) | 7~12% | Mono-phasic |
| Juvedem Ultra plus | 24mg | 173 | 14.4 | 16N | 6~11% | Mono-phasic |
| Revolax Deep  | 24mg | 180 | 9 | 18.5N | 8~9% | Mono-phasic |
| Juvederm Ultra plus XC | 24mg | 154 | | – | – | Mono-phasic |
| Restylane Perlane | 20mg | 515 | 7.55 | 14.74 | 3% | Biphasic |
| Perfectha Deep | 20mg | 298 | 8.44 | 15(irregular) | 5% | Biphasic |